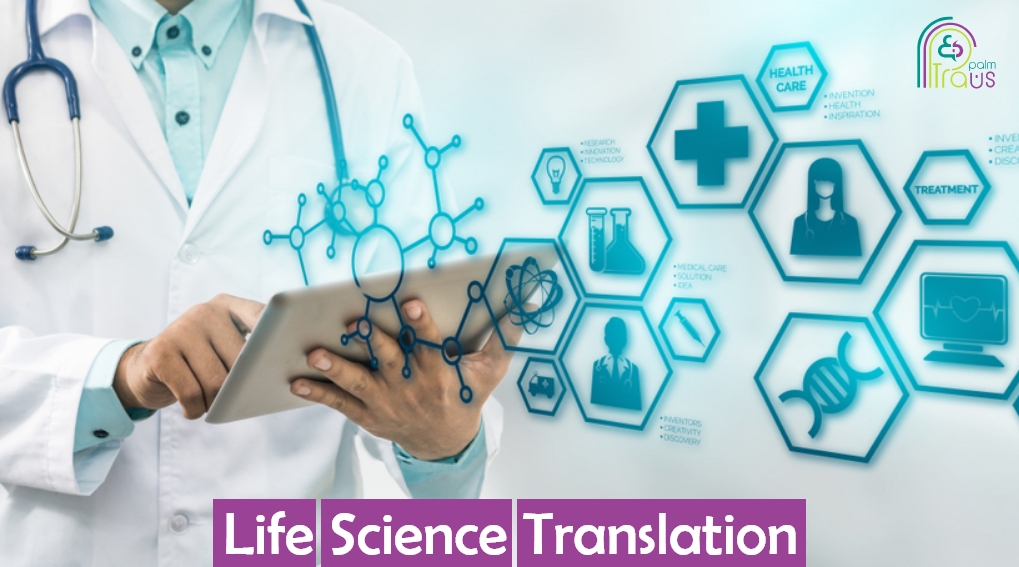 Your Ultimate Guide To Life Science Translation Best Practices
The need for accurate language translation services has become indispensable for pharmaceutical companies launching new products in foreign markets, for healthcare providers seeking proper treatment for their patients, and for medical device manufacturers exporting their devices to foreign countries. And if we can put this all in just three words, it's  "Life Science Translation."
Translation in a highly-sensitive field like life sciences, where the stakes are very high, is different and difficult. The life science industry has its own complex language and terminology, which makes it very challenging to stick to high quality and accuracy.  
However, delivering professional, flawless life science translation is still manageable. We have prepared a list of life science translation best practices any professional translation agency should be following to give you a glimpse into how professional life science translation works. But first, let us explain what life science translation is and why translation is important for it. 
Let's get started!
What Is Life Science Translation?
The life science industry comprises organizations, companies, businesses, and research institutions operating in the protection and improvement of organisms' lives and human well-being.
It encompasses a number of specialized disciplines, including pharmaceuticals, environmental sciences, biotechnology, biomedicine, cell biology, nutraceuticals, neuroscience, biophysics, and much more.
And all of these cannot do without accurate and reliable life science translation for documents, websites, devices, software, and more to meet the regulatory requirements that govern the industry.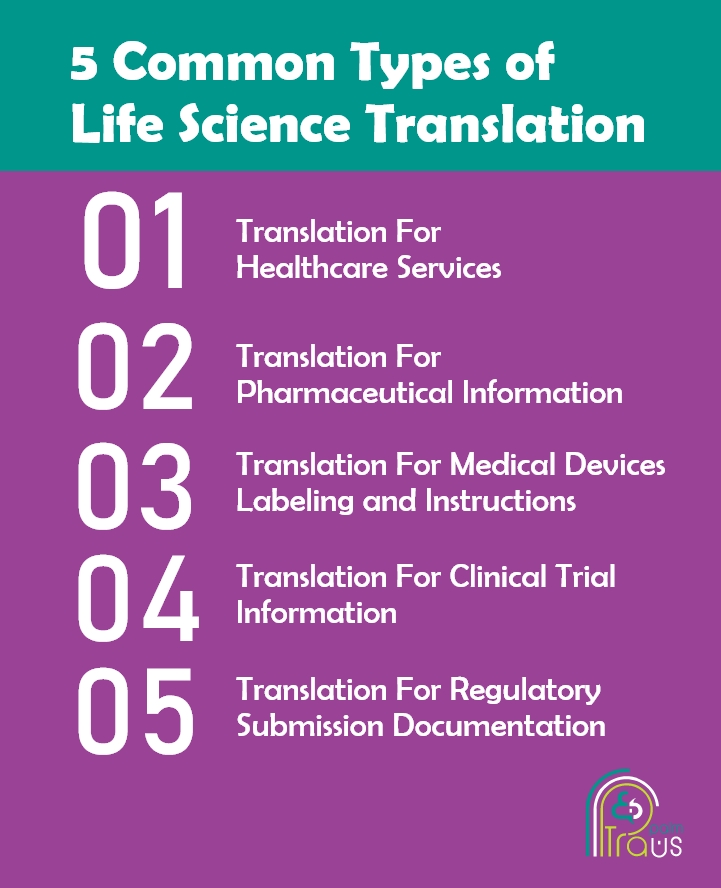 Basically, life sciences translation encompasses 5 common translation areas:
Translation For Healthcare Services 
Translation For Pharmaceutical Information
Translation For Medical Device Labeling and Instructions
Translation For Clinical Trial Information
Translation For Regulatory Submission Documentation
The Role Of Translation In The Life Science Industry
Yes, translation is obligatory in the life science sector, yet the significant role it plays makes the need for life science translation go way beyond that. To get a complete picture of how important life science translation can be, have a look at the number of benefits listed below: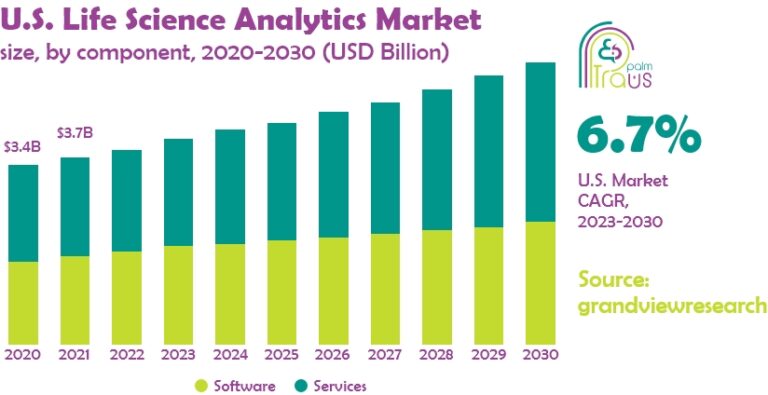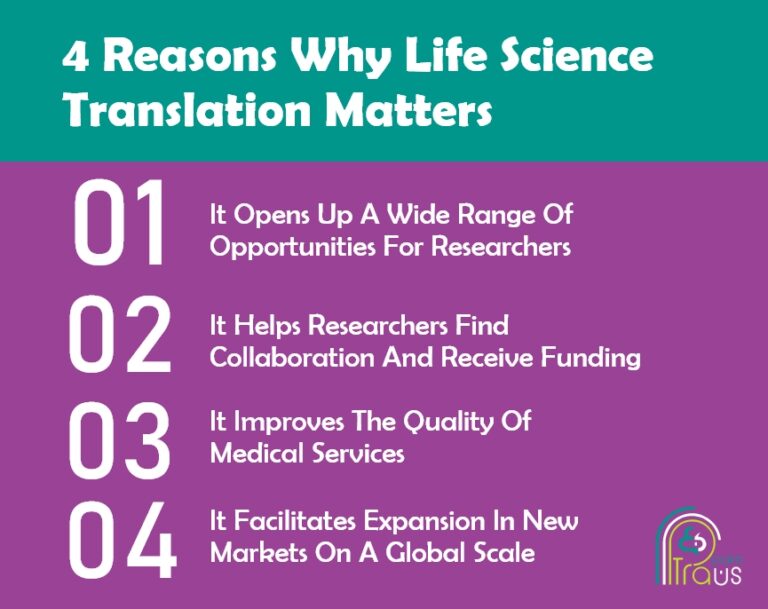 Opens Up A Wide Range Of Opportunities For Researchers
English has always been the lingua franca of science, and for non-English speaking researchers, this can be one of the biggest challenges. Many researchers in countries like Japan, France, Germany, and China, which are leading in scientific research, are put on the back foot only because English is not their first language. 
Almost 80% of the world's population is excluded from access to and participation in most of the world's published academic literature because of the predominance of English in the global scientific community. 
One of the common difficulties non-English speaking researchers face is getting their research published since most of the world's top scientific journals are in English.
According to SAGE Journals, nearly 75% of all scientific publications are in English, while English is only the native language of 7.3% of the world's population, and less than 20% can speak the language.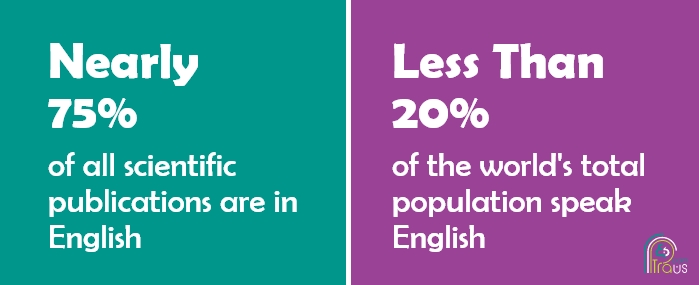 Valeria Ramírez-Castañeda, for example, a graduate student in the Department of Integrative Biology, has reported that she was handicapped by her limited English proficiency, which left her struggling to get her Spanish thesis published in a Scientific journal. 
Life science translation opens up a wide range of opportunities for researchers who seek to take their scientific efforts to an international level. It enables researchers to have access to information and better resources while allowing them to spread their ideas to the world and receive the recognition they deserve.
Helps Researchers Find Collaboration And Get Funding
With English being the official language of scientific cooperation, it is much easier for researchers to find collaboration partners if they translate their work into English. The same is true for receiving funding. 
Non-English-speaking researchers are biased by funding availability, and by getting their work recognized through translation, they are more likely to receive the funding they need for their work.
Improves The Quality Of Medical Services
Translating in the life science sector helps to improve the quality of medical services by ensuring successful and effective communication between healthcare providers and patients. It helps patients convey their health information accurately, which contributes to a correct diagnosis and proper treatment. It also increases satisfaction for both non-native patients, who feel more included in healthcare services, and for physicians, who find it easier to communicate with their patients with the help of language services. 
A good example of attempts to achieve better health outcomes through life science translation is The World Health Organization's launch of a multilingual version of its website. 
According to the WHO, multilingualism has become one of its policies to improve global health and help people get access to health information in whatever language they speak.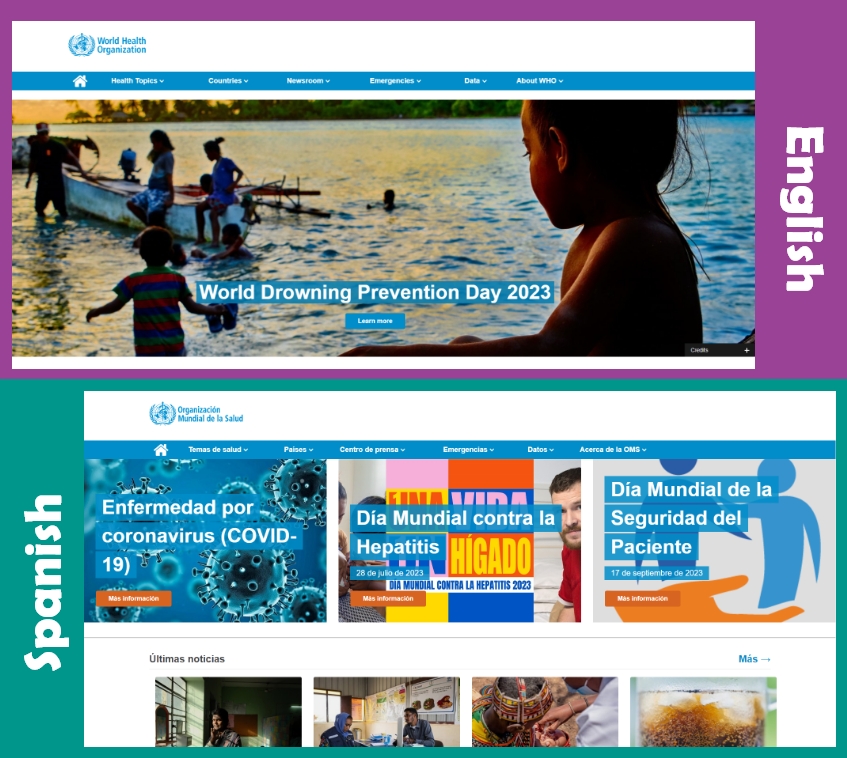 Facilitates Expansion In New Markets On A Global Scale
Companies operating in the life science sector are able to expand into new foreign markets, meet the needs of global clients, and adjust to local regulations with the help of life science translation. 
Life science translation grants pharmaceutical companies the global reach that provides them with the financial aid necessary to keep developing new drugs catering to patients' needs worldwide. And the same goes for medical device manufacturers, who are able to export their products to every corner of the world by localizing their devices and translating their documents into the languages of their target markets.
Life Science Translation Best Practices
1. Quality
When it comes to life science translation, there is literally no margin for error.  One tiny mistake can trigger terrible medical consequences and become the reason for lawsuits and financial liabilities—it's definitely something you do not want to experience. 
And because of the many linguistic, cultural, and technical difficulties that life science translation involves, maintaining high quality and avoiding translation or interpretation mistakes can be a struggle. 
A study examining interpretation errors in interpreter-mediated healthcare communication in a hospital outpatient clinic has found that the average number of errors was 31 per session, and 63% of all errors had potential clinical consequences. 
Most of these errors might sound very trivial, be it omitting or adding information. Yet, omitting significant information about patients' conditions, dosage instructions, or facts from medical history can definitely have dire complications. 
For a professional life science translation agency, maintaining quality should never be a big deal. There is a standardized set of quality assurance processes that professional agencies follow, which enable them to meet quality standards and maintain accuracy and consistency. 
Let us walk you through some of them.
This three-step review model is a succession of Translation, Editing, and Proofreading (TEP) designed to insert quality control on every level and guarantee quality services. 
This model is paired with ISO 17100 (ISO 2015) process standard, and any ISO 17100-certified translation agency should be following the Translation, Editing, and Proofreading (TEP) model as part of their quality assurance process.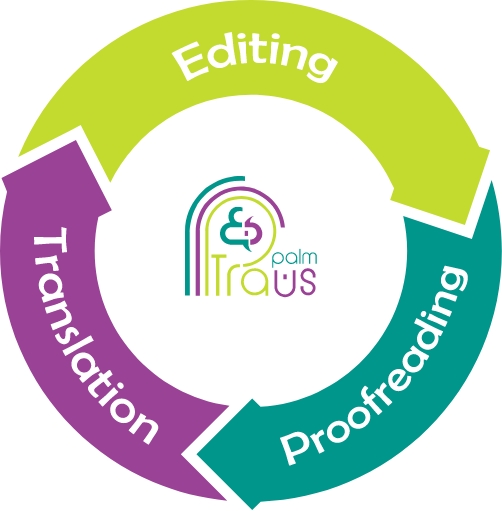 In the translation stage, translation is carried out according to the linguistic rules and cultural specificities of the target language and in light of the client's requirements. Then, the translator checks the initial translation to ensure accuracy and compliance with the project specifications.
In the editing stage, a second translator carries out a bilingual review through which he compares the source and target languages for terminology, register, and style. It can be followed by an optional monolingual review, focusing only on the target language.
In the proofreading stage, a third translator proofreads the final version of the translation to check for any linguistic, cultural, or technical errors left out during the previous stage. 
This process is crucial for life science translation. It helps to eliminate any mistakes, improve accuracy, and weed out any mistranslation, discrepancy, or cohesion issues.
Back translation is a three-step quality control strategy that best suits life science translation and its high-risk content, functioning as a risk management tool. It should never be skipped, as it is often one of the requirements of ethics committees and institutional review boards, which means that your translated documents will never achieve regulatory compliance without it.
Back translation is designed to protect patients from receiving incorrect information that can have serious clinical consequences. It comprises three main steps:
Back Translation:

in this step, the completed translation is retranslated into the original language.

Comparison:

in this step, the translator compares the new translation with the original

Reconciliation:

in this step, translators reconcile any difference between the two.
The aim of this double translation process is to check the differences between the translated document and the original one to detect any translation errors or omissions. And such a rigorous practice is common when translating across highly sensitive sectors like life sciences.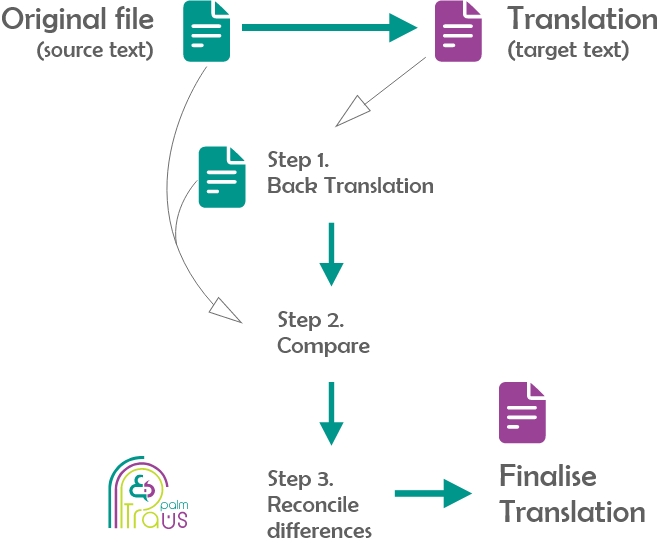 Linguistic validation is a process through which a patient questionnaire or an instrument is extensively tested for accuracy, cultural competence, and conceptual equivalence after being translated through a set of different steps.
It is performed to single out any translation mistake that might have severe clinical and legal consequences. However, this is not the only reason why linguistic validation matters. 
Linguistic validation is also one of the requirements of life science translation, especially in the field of clinical trials in the translation of Clinical Outcomes Assessments (COAs), such as
Patient Reported Outcomes (PROs)
Clinician Reported Outcomes (ClinROs)
Observer Reported Outcomes (ObsROs)
Quality of Life (QOL) questionnaires. 
The process of linguistic validation involves 8 different steps: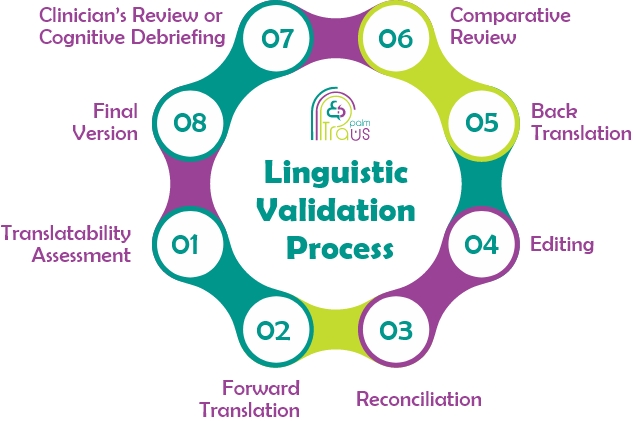 The translatability Assessment is the initial step in the linguistic validation process. This step allows the translators to anticipate any problems that may appear during the linguistic validation process and avoid any sources of ambiguity.
In this step, two different translators are assigned the task of translating the required content into the source language. Then, they compare the two translations.
In this step, a linguist evaluates the two versions of the translation and reconciles them to produce the best version of both.
In the editing step, professional linguists edit the reconciled version to check it for any inaccuracies.
Back translation is performed in this step as a vital step in the linguistic validation process, where the finished translation is retranslated into the source language by two translators. 
In the comparative review step, the back translation is compared to the original text before the main linguistic validation process is carried out.
Linguistic validation is performed through a clinician's revision, a process that ensures the translation is reviewed by subject-matter expert clinicians who suggest possible edits and improvements for the translation.
Pilot testing is a process included in cognitive debriefing through which the translated instrument is tested on a sample of people in the target culture who evaluate the completed translation for clarity. Such a rigorous process ensures that the outcomes evaluated by individuals in the target audience are equivalent to those in the source.
A final editing step is performed by the translators before the quality assurance team checks the translation for accuracy. 
In fact, life science translation cannot do without linguistic validation, as it contributes a lot to overcoming most of the challenges that life science translation involves and ensuring instrument validity by maintaining contextual relevance and cultural competence.
Terminology precision is a core practice in life science translation. In the field of life sciences, quality depends heavily on the accurate use of terminology. And the problem is that there are many challenges involved in the translation of medical terminology that make achieving technical precision an impossible task without the help of a professional language services provider. 
Working with a network of subject-matter expert translators who possess proficient management of the industry's specific terminology is necessary to achieve terminology precision in life science translation. 
When translators are well-trained in handling all the challenges involved in translation and the use of medical terms, they can effectively implement terminology throughout the translation process while ensuring accuracy and consistency. 
Such proficient translators also need to be regularly updated with any slight changes or developments in medical terminology. Just think about the huge number of new medical terms that started to be in use after COVID-19. 
Terminology precision also requires that translators always be experts in choosing the right terminology for the right audiences. Some medical terms can have a general word intended for lay audiences and another one, often Latin or Greek, for professional use. "Intracerebral hemorrhage," for instance, is the same as "Brain Bleeding."
And we certainly cannot forget the indispensable role of translation tools like terminology bases, translation memories, and glossaries for easier and faster use of correct terminology in life science translation.
When it comes to a highly specialized industry like life science, medical integrity is always the main focus. Life science content cannot be handled by any general translator. It should be delivered by subject-matter expert translators who possess the required medical degrees and qualifications that enable them to translate for the industry.
And when translators possess a medical degree, it does not mean that they can work on any type of life science content. Specialization is also required here. For example, a translator who is specialized in cardiology cannot and should not work on medical documents dealing with hematology. 
A professional translation agency will ensure medical integrity through a careful vetting process for their translators, through which they can verify their medical expertise and specialization before joining their teams.
Ensuring cultural and contextual competence is one of the best practices in life science translation. It might seem weird, but yes, life science translation is also influenced by culture, like any type of translation. It is highly required that translators consider cultural and contextual nuances in the life science translations they provide to maintain quality and accuracy.
Sometimes life science translation might be word-to-word accurate but lack cultural competence, which can result in the miscommunication of information—a very risky problem in a sensitive field like that. 
When translating informed consent forms, for example, some personal questions can appear invasive to readers from specific cultures, which is something the translator has to keep in mind when translating. 
A professional translation agency will be very precise about handling the cultural and contextual differences of each target country. They will make sure they work with native-speaking translators who are based in your target locale and are culture experts.
Almost all life science content is sensitive, be it patient medical information, specialized studies, or unpublished papers. And that is why ensuring confidentiality is key in life science translation. There is more than one way to maintain the secure and safe handling of all sensitive life science data that translators have access to during the translation project.  
First, using end-to-end encryption for communication between clients and translators is very important. It can also prove handy for securing phone and video interpretation sessions. However, end-to-end encryption can be further enhanced by using non-disclosure agreements (NDAs) for every individual involved in the translation project. 
A professional life science translation agency will be HIPPA compliant and will definitely have all of these procedures in practice to maintain the highest levels of confidentiality and security.
Can Any Translation Agency Conduct Life Science Translation?
After going through life science translation best practices, what do you think the answer to this question can be? Yes, we can hear your big "No" ringing from the bottom of your heart. Only a professional translation company that specializes in life sciences can deliver the highest quality life science translation services. And this puts a huge responsibility on your shoulders because you have to be very careful when choosing the right company to partner with.  
However, TransPalm will save you the effort, for we simply have everything you need here in one place. For years, we have been the language service provider of choice for multiple medical services providers, healthcare organizations, pharmaceutical companies, drug manufacturers, clinical research organizations (CROs), medical facilities, and more. 
We deliver regulatory-compliant life science translation, powered by certified medical translators and linguists who are experts in the medical sector and reviewed by professional clinicians and doctors to achieve the highest levels of technical precision, accuracy, and consistency. All of our translators are native speakers of your target languages and are based in every locale you want to target.