Your Introduction to Automotive Translation for Global Expansion
Did you know the automotive industry (sales and manufacturing) is the fifth and sixth-largest worldwide, worth trillions of dollars?
Duh, you probably know that!

What you don't know though is that with such a vast global market, and as you stand at the crossroads of opportunity, comes the challenge of connecting with customers, manufacturers, and dealerships worldwide.

However, your dream of international business expansion and cross-border collaboration 
can become a reality through the power of automotive translation and multilingual content.
In this blog, we explore why automotive translation matters and how it can help car manufacturers and brands like yours to achieve global exposure, sales, and impact.
So buckle up, and let's hit the road to discover the exciting opportunities that automotive translation has to offer you.
Automotive Translation: A Quick Overview of the Global Automotive Industry
From the early days to the present, the automotive industry has evolved dramatically.
It has expanded, becoming more globalized, diverse, and competitive than ever. Nothing changed even when COVID-19 seemed to have impacted the sector, with significant disruption and decline in sales and production.
Automotive Market Outlook

 
In 2022, the global market of Automotive Manufacturing was valued at

$2.9 trillion

.

The market is now on a growth trajectory with a Compound Annual Growth Rate (CAGR) of 3.1%

.

The industry is projected to maintain a steady growth rate of

3.71%

from 2020 to 2030, resulting in a substantial increase to 122.83 million units by the end of the decade, a significant leap compared to the 85.32 million units recorded in 2020.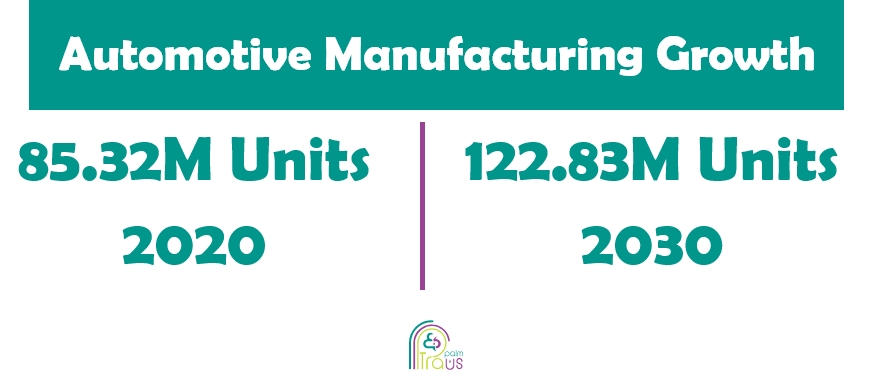 Over 50% of global vehicle sales take place in the Asia-Pacific region. China is the largest market for the sale of vehicles, with 32.34% of global sales, followed by India, Japan, and South Korea.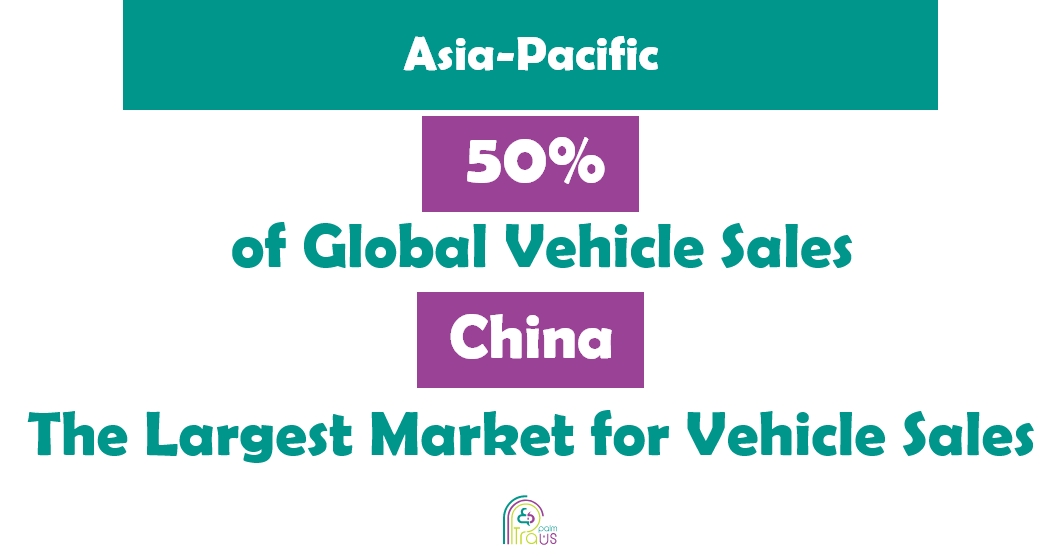 China

USA

India

Japan

Germany

Brazil

United Kingdom

France

South Korea

Canada
And while countries like the USA and Germany have long been established market leaders, the last decade has seen emerging markets gaining ground in the automotive industry.

And much to your surprise, 3 of these markets made it to the previous list of the top largest car markets, namely China (a fast-growing, emerging market until 2015), India, and Brazil.

Mexico and South Africa also are among the most significant emerging automotive markets.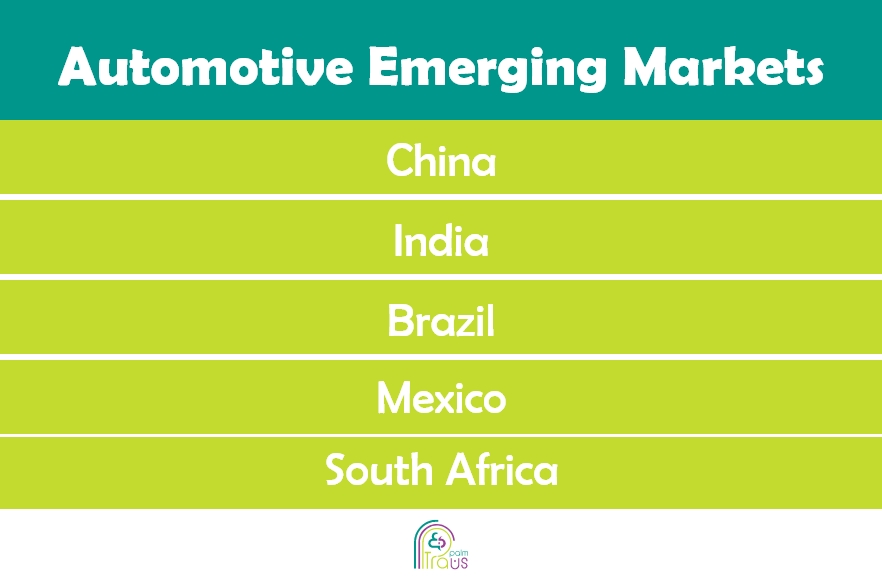 The remarkable growth of the automotive sector presents an array of promising business opportunities for those seeking expansion. You have the chance to tap into established and emerging markets, strategically establishing your presence and engaging with diverse consumer segments.
If you are wondering how businesses can manage to do that, it's the synergy of digital content and automotive translation.
Keep reading to find out what that means.
The Rise of Automotive Digital Content
In the last decade, two changes have been driving the growth of the global automotive industry:

1. Consumers' Preferences and Expectations
With the advent of digitalization, the car-shopping process is moving online.
Consumers are increasingly turning to the internet to research, compare, and purchase vehicles, with

59%

of car buyers spending their time doing online research.



According to

Think with Google

,

92% of car buyers research online before they buy. And they research videos. In fact, 69% say that YouTube videos influence their car buying decision – more than TV, newspaper, and magazines. 

This online preference goes as far as shoppers no longer requiring a test drive. 64% of those who watch online videos to inform their purchase decisions say new formats like 360° video would convince them to make a car purchase without a physical test drive. 
The bottom line is your audience has moved online – and so has your global audience.
2. Brands' Marketing Efforts Priorities
With the change in consumer behavior and the pursuit of connecting with diverse audiences worldwide, automotive companies are heavily investing in digital marketing strategies.
They are placing great emphasis on their digital presence, with improving conversion and leads coming as their first priority.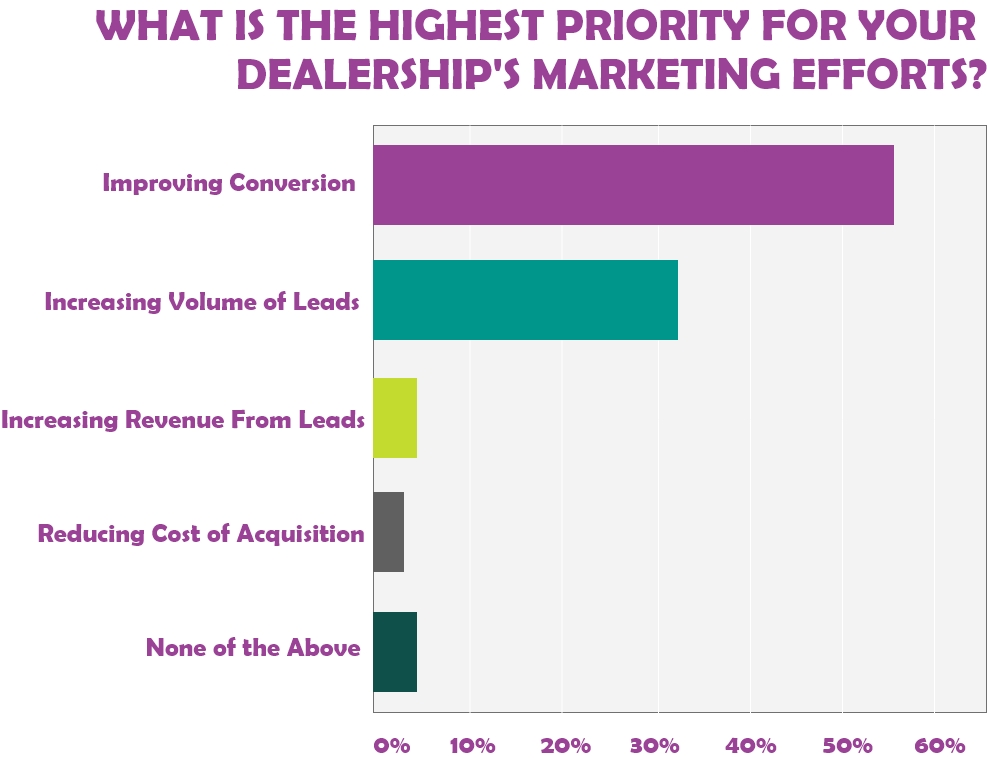 These changes have given rise to automotive digital content that even goes beyond product specifications. From interactive websites with informative content to engaging social media and targeted ads and campaigns, automotive businesses are more committed to building an online ecosystem that maximizes brand visibility and customer engagement.
But where does automotive industry translation fit in all that?
The Need for Automotive Translation
A report by Deloitte has identified 9 characteristics automotive manufacturers should pursue. One of them is availability in all major markets.

This necessitates translation services to break down limiting geographical and language barriers and expand brand appeal and sales across global markets.

Remember the list of the top 10 largest car markets and emerging markets? Well, these major markets require that your brand speaks at least 7 languages: Chinese, Hindi, Japanese, German, Portuguese, French, Spanish, Korean, and Zulu.
Communicating in the language of potential customers and partners empowers you to streamline your market entry into these territories, tapping into previously untapped markets and significantly expanding your global reach.
Moreover, in your pursuit of global expansion, personalized experiences are key to unlocking hearts and minds in diverse markets.

But, personalization goes beyond language; it extends to resonating with your target audience's unique preferences, cultures, and expectations. This means the integration of translation and localization services to adapt content and ensure that messages are clear and relatable in each region.
Perhaps, Honda's campaign "Through the Window" for its Asian American audience provides a great lesson on translation and personalization. The brand tapped into Asian Americans' spirit of family and adventure, with an ad featured in English, Mandarin, Vietnamese, and Korean.

Through the Window|Honda Courtney Zhi|2023 CR-V Hybrid(中文|普通話版
A Client's Guide to Automotive Translation: Challenges and Tips
If you are planning for your automotive translation, then you'll need this guide to inform your project.
The Automotive Industry Translation: The What and the Why
So, What is Automotive Translation?
Automotive translation is a specialized type of translation and a sub-category of technical translation services. 
At its core, it involves the transformation of automotive-related content, including automotive documents, software, marketing materials, and more from the source language to a target language.

Accurate translation doesn't only mean linguistic accuracy and fluency. It ensures that the content retains its essence, tone, and intent while becoming accessible, comprehensible, and relevant to speakers of different languages.
Why Automotive Translation Matters?
In short, here are 4 reasons why automotive translation matters for your business:
1. Global Reach and Conversion Rates
A significant 76% of online shoppers show a preference for purchasing products that provide information in their native language. Additionally, 40% of consumers firmly state that they will never make a purchase from websites that are in languages other than their own.

2. Appealing, Resonating, and Engaging
Effectively communicating through language is paramount to appealing to diverse cultures, resonating with local values, and engaging customers on a personal level.
Language shapes the emotional impact of a brand's message, enabling you to connect authentically with your target audience. This ultimately leads to stronger brand affinity and increased customer retention.
3. Your Competitive Advantage
Providing content in multiple languages can be a game-changer. Integrating automotive translation services empowers you over your competitors who have yet to embrace multilingual marketing, positioning yourself as a global player that values accessibility.
You are probably familiar with Fortune 500, and you also probably know that major automotive companies are on the list. A CSA survey of Fortune 500 companies revealed the following:

Businesses that increased their translation budgets were 1.5 times more likely to report higher total revenue than their Fortune 500 peers.





Businesses that translated information to communicate with and retain partners were 2.67 times more likely to experience revenue increases and 2.6 times more likely to achieve improved profits.





Fortune 500 companies that translated content to gain a competitive edge were 2.04 times more likely to see increased profits and 1.27 times more likely to generate augmented earnings per share (EPS).
Automotive Translations: The How
Here are the most common types of automotive content that require translation.
User manuals and Guides


These documents serve as comprehensive resources that empower customers to effectively operate and maintain their vehicles. It requires professional document translation of complex technical terminology and industry-specific jargon to ensure clarity and precision.




Websites, Apps, and Marketing Materials


Translating websites, mobile apps, and marketing content, including social media posts and advertisements, allows automotive businesses to attract customers from various language-speaking regions and create a seamless online experience for diverse audiences.




Safety Documentation


Translating safety documentation, such as vehicle safety manuals and warning labels, ensures that critical safety information is accessible and understood by customers worldwide, promoting the safe usage of vehicles.




In-car Software


To improve driving experience and safety, in-car technology must be accurately translated and culturally appropriate. This requires focusing on localizing the user interface, using local currency and measurements, and complying with local driving regulations.




Design and Manufacturing


Translating design and manufacturing documents, such as blueprints and technical specifications, facilitates effective communication and collaboration between international teams, streamlining the production process and ensuring operational efficiency across markets.
Next Steps
It's evident that your next step should be integrating automotive translation into your business expansion strategy.

But to give you some heads up, automotive translation is not particularly a light task.

It's not just a matter of translating words – it's about conveying the unique terminology accurately and consistently and considering the cultural sensitivities of your audience.
And it's not just about getting the message across – compliance with regulations is also a crucial factor in automotive translation. The automotive industry is highly regulated, and compliance with laws is essential to avoid legal and financial consequences.
Automotive translation is indeed challenging, and although machine translation is an option, human translation remains indispensable. Translation companies with large teams of expert technical translators and subject-matter specialists play a crucial role in delivering high-quality translations.

With their context awareness, cultural sensitivity, and industry-specific expertise, their teams can skilfully navigate linguistic and cultural nuances as well as technical intricacies of automotive content.

Besides, these companies have robust quality assurance processes in place and leverage translation technology and tools to maintain efficiency, precision, and consistency, as well as faster turnaround times. 
Choose TransPalm for Expert Automotive Translation
At TransPalm, you will have more than just word-to-word translations. We thrive with more than 15 years of automotive translation experience in more than 120 languages. 
Our ISO-certified automotive translation best practices and strict compliance with international quality and safety standards enable us to provide the highest quality translation and localization services. 
Our team of subject-matter experts and professional linguists is well-versed in automotive terminology to ensure accurate and effective translations, using cutting-edge translation technology and providing cultural sensitivity in all translations.
TransPalm has rigorous quality control processes, adheres to industry-standard quality certifications, and offers excellent 24/7 customer service to help our clients succeed in global markets. 
Contact our experts now or

get a free quote. for your upcoming automotive translation project.